Trusted car sales since 1953
Dorset's oldest family-run motor trade business
History of Norman Motors
Norman Motors holds the proud distinction of being the oldest family-run motor trade business in Dorset. Over the years, we have built a reputation for our open and honest approach to car dealing and reliable vehicle servicing, which has built us a loyal customer base.
The Norman family name is synonymous with the motor trade and has been for many generations. Norman Motors (Wallisdown) was established in 1953 by Donald James Norman (the grandfather of the current MD, David Norman). The business originally consisted of a sole property, which was a residential dwelling, with the ground floor converted to a small showroom area to sell cars, and a kerbside forecourt area for petrol sales.
The Norman family traces its history in the motor trade business in Dorset back even further generations.
During the war David Norman's Great Grandfather engaged in car trading from premises in Westbourne; and his grandfather ran a small garage from coaching house premises in Branksome Dene Road. These premises are still in existence, but now form a residential mews. A vintage petrol pump from the wartime era can still be seen as a feature in the driveway.
Oldest family-run motor trade
business in Dorset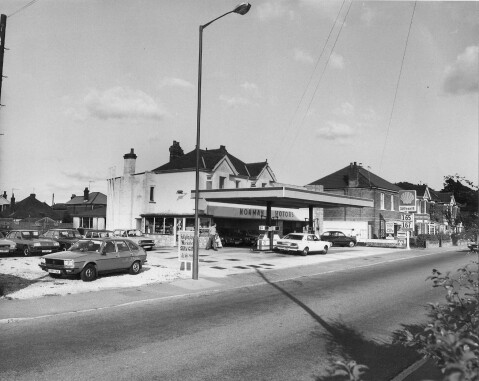 After seventy years of trading, the current Norman Motors business is still located at this original Wallisdown Road site, however the premises of today are unrecognisable, as significant developments have been made over the years.
In 2015, David Norman began an exciting new phase of redevelopment and expansion of the Wallisdown Road site, where today you will find a spacious display area, welcoming showroom, and customer parking.
Similarly, the Poole site in Bournemouth Road has undergone extensive refurbishment, including a new sales office and landscaped forecourt display areas.
To increase car sales space, the Norman Motors Service Centre re-located to new offsite premises in Sharp Road, just a short distance between both sites.
Established in 1953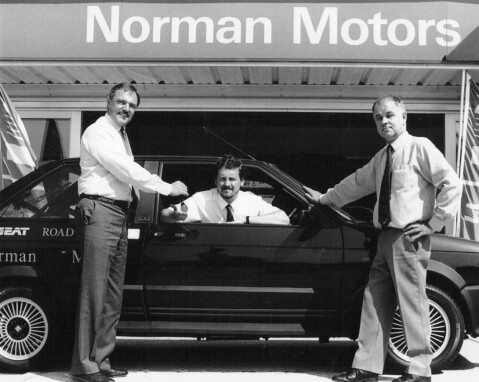 In 1953 Donald James Norman moved with his family to the premises in Wallisdown Road. He converted the ground floor into a small indoor showroom for just six cars, and the front of the dwelling had a small off-road forecourt area for petrol sales.
The property was also the main family residence, and Donald and his son Barrie (who was still at school) would hear the forecourt bell ring and go out to fill up cars with Cleveland petrol, while customers collected Green Shield Stamps.
When Barrie left school, he joined his father in the business full time. Over a period, they acquired five adjacent properties in Wallisdown Road, enabling them to significantly expand the business and add a service department.
In 2003, a second Norman Motors site was opened in Bournemouth Road, to launch a Poole dealership and extend the number of vehicles on display at any one time.
Donald Norman died in 1986 and Barrie Norman took over management of the operation.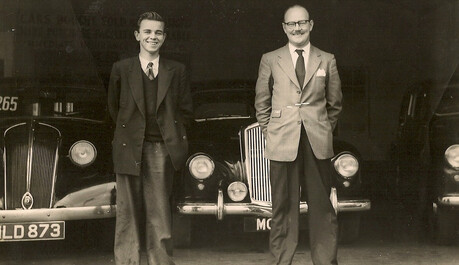 A reputation built on honesty and integrity
The current Managing Director, David Norman, joined his father working part-time on an apprenticeship when he was just fifteen, learning the ropes and being introduced to every aspect of the business. Having left college in 1992, David joined his father full-time.
Barrie and David worked in partnership until his retirement, leaving David as the fourth generation at the helm.
Barrie Norman passed away in January 2019.
David continues to build the Norman Motors reputation for exceptional customer service, well presented, high quality cars and an ethos of no pressure sales, making your car buying experience a pleasure.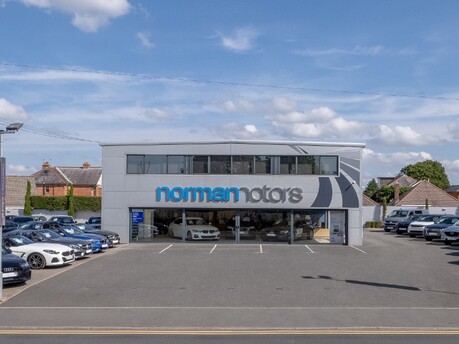 Rated 'Excellent' on Trustpilot